However, certain developments are common to all. Traditional notions of healthcare are being challenged, with companies increasingly looking at different ways of delivering services; ageing populations are stimulating demand for new procedures and drugs; and rapidly developing technology – from robotics to nanotechnology – is bringing challenges and opportunities across the sector.
Those organisations that adapt quickly to these changes will be best placed to take advantage of the huge potential for growth.   
Why QBE?
QBE has been providing cover to the healthcare sector for more than 20 years. We can help organisations right across the sector, from research and development firms to manufacturers, sales and distribution firms, hospitals and clinics.
Our underwriters bring a thorough understanding of the various risks you face, and offer a broad range of relevant products. If you grow from a small start up to a huge multinational company, we have the suite of products and expertise to grow with you.
We pride ourselves on our speed of response and our ability to structure products to suit your individual circumstances. Our expertise means we are able to take on larger and more complex risks, such as those associated with clinical trials, pharmaceutical products and medical malpractice.
Managing risk is essential in this sector; we provide comprehensive risk management support, helping you to foster a risk-aware culture and minimise claims. In the event of a claim, we will work closely with you to achieve the best outcome as promptly as possible.  
We offer the strength and financial security you would expect of a division of the QBE Insurance Group, one of the world's leading insurers. We also benefit from QBE's global network and broad licence portfolio, which allows us to underwrite risks around the world. If you have multiple operations abroad, we can write global programmes that provide comprehensive protection and local policies, where required.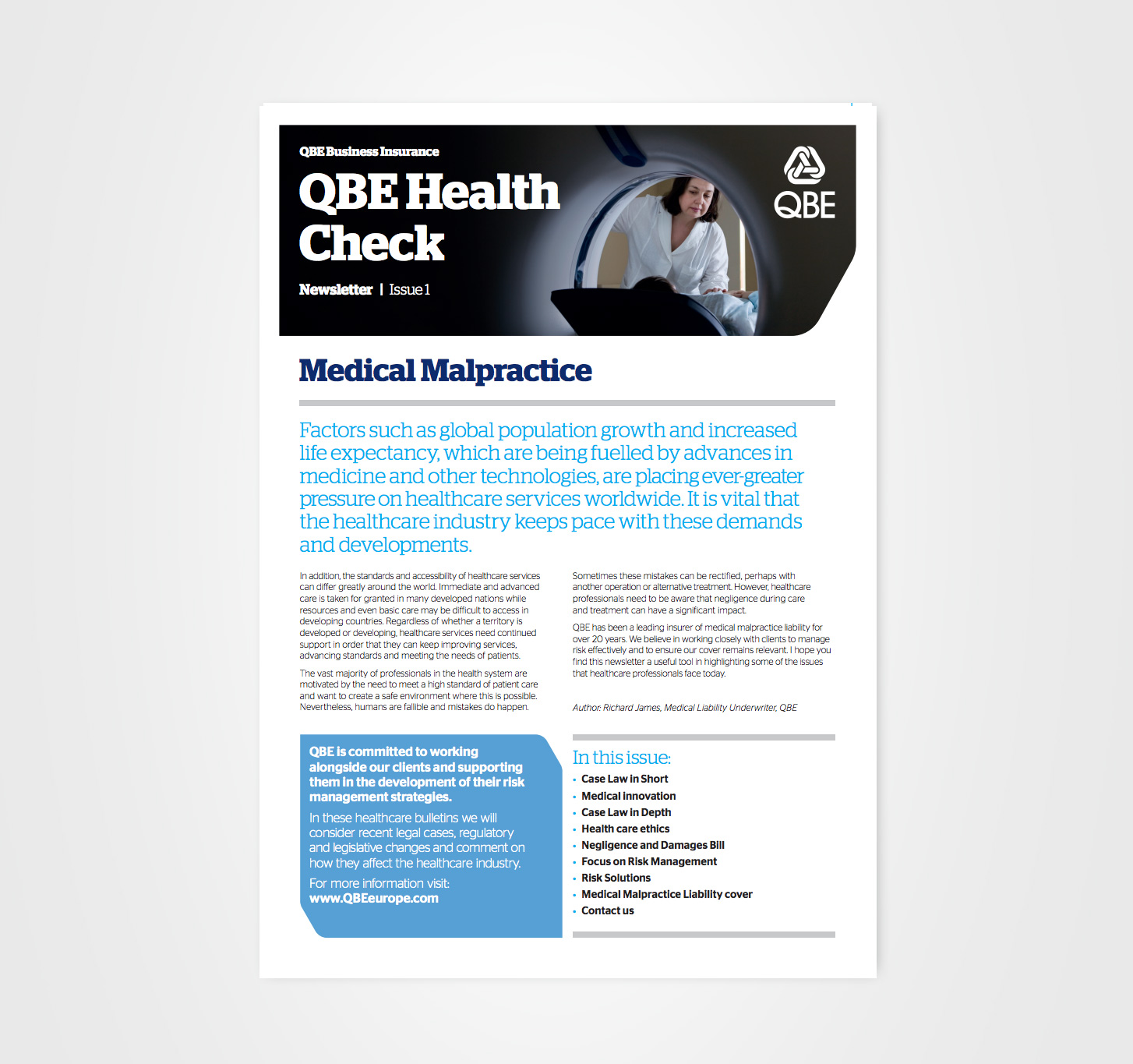 In these regular bulletins, we look at how recent legal cases and developments in regulation and legislation affect the healthcare industry.
View all issues
Relevant products
Downloads