Tangible results
We pride ourselves on the fact that we can really make a difference; we find that customers that use our risk engineering services have lower premiums and experience fewer claims than those that don't. 
Our approach
Our approach to risk management is not prescriptive or about ticking boxes; it is about coming up with creative solutions to your particular challenges. That can include everything from fitting new sprinkler systems to carrying out sophisticated assessments of your culture and attitude to risk management.
We start by working with you to assess your risks, identifying any vulnerabilities and creating solutions to tackle them. We then provide ongoing support, such as carrying out site visits and helping you to improve your systems and strategies.
We also give customers exclusive access to QRisk, a unique web-based system that helps you to understand and manage your risks more effectively.
Our well respected team consists of people who have worked in industry and is supported by a comprehensive network of expert consultants, so we can help with virtually any risk management challenge. We offer particular expertise in construction, manufacturing, transport and logistics, real estate, utilities, oil and gas, municipalities, retail and wholesale, and food and drink.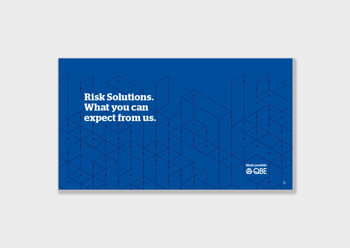 Risk management is an essential part of businesses achieving and maintaining success today. We come up with flexible, innovative solutions that help you transform your company's approach to risk – and ultimately improve your bottom line.
Download brochure