Supporting your ambition
Where there's ambition, there's risk. We live in an unpredictable world. So, whether you're diversifying, scaling your business or entering new geographies, an element of risk inevitably comes with the territory. At QBE, we don't see risk as something to be feared, simply as proof of your ambition. Our job is to help you interpret and manage risk, so you can embrace exciting new opportunities with confidence.
Specialist knowledge
We have specialist Risk Solutions practices for each of your main risk areas, so you will always deal with risk management experts who understand your world of risk relating to:
We offer particular expertise in the following areas:
Pragmatic Approach
You can count on us as a trusted partner to deliver a pragmatic, risk-based programme that complements your risk objectives, improves your loss experience and protects what you value. We'll bring expertise, drive and empathy, but above all, a customer-focussed and problem-solving mindset.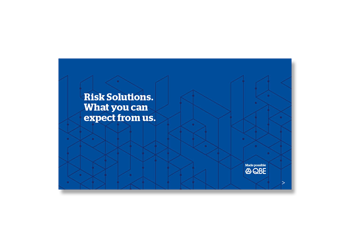 Risk management is an essential part of businesses achieving and maintaining success today. We have flexible, innovative solutions that help you transform your company's approach to risk – and ultimately improve your bottom line.
Download brochure
Our well-respected team members have worked in business and industry and are supported by a comprehensive network of expert consultants, as well as a range of industry specialists - QBE's Solutions Panel, so we can help with virtually any risk management challenge.

Our customers have access to QRisk, QBE's client risk management portal that helps you to understand and manage your risks more effectively. Our risk profiling questionnaires, guidance, and templates include risk management content that is only available to QBE policyholders proactive engagement with these profiling and improvement tools is proven to reduce claims.