QBE Business Insurance today predicts that England is the clear favourite to win the tournament, based on analysis of a wide range of variables and 10 years of past events and incidents.
The computer model, which has simulated the tournament 10,000 times to produce outcomes from 150,000 games, indicates that England has a 54% likelihood of winning the tournament, with Ireland a distant second with a 26% chance of winning and Wales third on just 12%. They are followed by France (6%), Scotland (2%) and Italy are rank outsiders (0%).
The actuaries, whose day job is to predict the likelihood and impact of events that put businesses at risk, inputted a wide range of variables including the number of tries, kicks and conversions scored by the teams, the caps of each captain, latest world ranking and home/away advantage.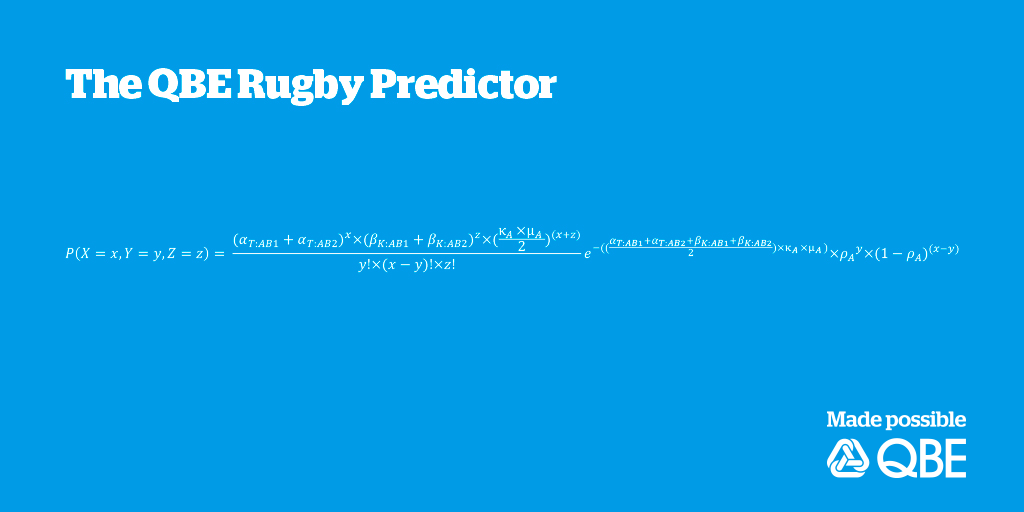 The formula takes into account the introduction of bonus points in the new scoring system for this year's tournament and puts England also as favourite to win the Grand Slam (21% chance) followed by Ireland (10%) and Wales (3%). However the QBE actuaries say the most likelihood is that no team will win the Grand Slam (64%).
England is also favourite to win the Triple Crown (26%) and is very strong favourite to beat Scotland for the Calcutta Cup.
MATTHEW CRANE, Director of UK & Ireland QBE Insurance, said:
"Rugby teams are not that different from businesses as they have to understand the risks and prepare for every eventuality".
 "On a daily basis QBE applies science like that behind this model to different sectors such as transport, construction, and financial services. These live tools improve thousands of businesses, from micro SMEs to multinational corporations by helping to recognise perils and mitigate against potential losses".
"However, nothing is certain and predictions can be wrong as recent national and international events have shown. And that's the point. You can't predict with 100% certainty, which is why risk management is an essential ingredient in business planning"
"The Rugby Predictor is of course a bit of fun that happens to use one of the many tools of analysis our experts would use in reality."
PREDICTIONS FOR THIS WEEKEND'S GAMES
Scotland v Ireland - Saturday
Expected score: Scotland 17-24 Ireland
Probabilities

Scotland win - 29%
Ireland win - 68%
Draw - 3%

Expected tries in game - 4
Ireland have a 21% chance of winning with a bonus point
If Ireland win, Scotland have a 30% chance of getting at least 1 bonus point
England vs. France - Saturday
Expected score: England 29-15 France
Probabilities

England win - 82%
France win - 16%
Draw - 2%

Expected tries in game – 4
England have 33% chance of winning with a bonus point
If England win, France have a 19% chance of getting at least 1 bonus point
Italy v Wales - Sunday
Expected score: Italy 16-33 Wales
Probabilities

Italy win -14%
Wales win - 84%
Draw - 2%

Expected tries in game - 5
Wales have a 48% chance of winning with a bonus point
If Wales win, Italy have a 17% chance of getting at least 1 bonus point
About QBE
QBE European Operations is part of QBE Insurance Group, one of the world's leading international insurers and reinsurers and Standard & Poor's A+ rated. Listed on the Australian Securities Exchange, QBE's gross written premium for the year ended 31 December 2015, was US$14.7 billion
As a business insurance specialist, QBE European Operations offers a range of insurance products from the standard suite of property, casualty and motor to the specialist financial lines, marine and energy. All are tailored to the individual needs of our small, medium and large client base.
We understand the crucial role that effective risk management plays in all organisations and work hard to understand our clients' businesses so that we offer insurance solutions that meet their needs – from complex programmes to simpler e-trading solutions – and support them in minimising their risk exposures. Our expert risk management and rehabilitation practitioners focus on helping clients improve their risk management so that they may benefit from a reduction in claims frequency and costs.