St. Andrew's Healthcare is a charity who provide specialist mental healthcare for patients with some of the most complex, challenging mental health needs in the UK. They develop innovative ways to help patients recover, creating a package of care designed around each individual, their preferences and needs. They focus on physical and spiritual wellbeing as well as mental health.
The Foundation's grant is being used to develop a new virtual reality (VR) therapy which can be used to treat acute social anxiety. Social anxiety is a common issue for patients with complex mental ill health, and one which can have a significant impact on their recovery. It is hoped the VR therapy will be available to patients in secure psychiatric hospitals, where this technology presents a unique opportunity for patients who are unable to benefit from conventional treatments, because of their limited access to real life situations.
Dr Sanjith Kamath, Executive Medical Director at St. Andrew's Healthcare, explained the positive impact virtual therapy can have on mental health patients. She said:
"The aim of the new virtual reality therapy is to help patients re-engage with the world and be able to approach everyday situations feeling more confident and in control, so that they can return back to the community and wherever possible, to home and loved ones. Thank you - your donation will really make a difference to our development of this project, which we hope will have a real impact in supporting our patients with their recovery."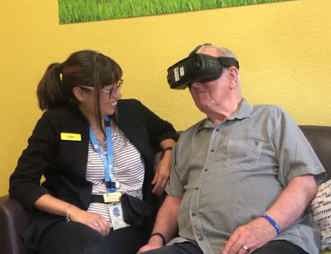 Your charity could benefit financially from our support too. Visit our Foundation page to see when we're accepting applications.