Alcohol is estimated to cost the NHS around £3.5bn per year, which amounts to £120 for every taxpayer, according to 2016 figures from the Health and Social Care Information Centre (HSCIC). Many people who consume alcohol exceed the recommend daily limit and face Alcohol Related Brain Injury (ARBI). However, ARBI is a reversible condition and up to 75% of patients can make partial or complete recovery if given personalised treatment and care. Such support can really make a difference to the lives of many, achieving better patient outcomes, cost savings and significant reductions in recurring hospital admissions.
Leonard Cheshire are a charity whose aim it is to support individuals with disabilities, to enable them to live, learn and work as independently as they choose, whatever their ability. When it was shown that there had been a marked increase in the number of people diagnosed with ARBI in Northern Ireland, Leonard Cheshire were determined to step in and make a difference and try to prevent the problem getting any worse.
The QBE Foundation gifted Leonard Cheshire a grant of £7,500 to help them set up a new service. Leonard Cheshire ARBI unit will open in January 2020 and will provide treatment and care to reverse brain damage diagnosed as a result of excessive alcohol.
It will be a pioneering and innovative residential treatment centre – the first of its kind in Northern Ireland. It will support the individuals directly affected with ARBI, their families and the wider social and financial environment. 14 people can stay and be treated at the Leonard Cheshire ARBI unit per year, but the number of people who will benefit indirectly is much higher, and over time thousands of people will feel the positive impact of this new service.
"Our regional service will promote critical opportunities for recovery and provide personalised support to enhance opportunities for reintegration into the local community; Leonard Cheshire ARBI unit will offer direct support of both care and treatment to improve life choices and return people home." Fiona McCabe, Director, Ireland & Isle of Man, Leonard Cheshire.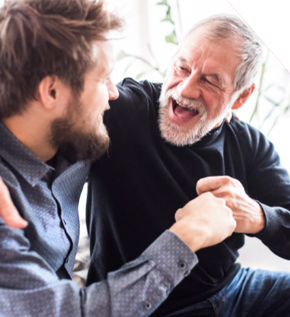 In 2018, we provided 80 grants to charities. Your charity could benefit financially from our support too. So please visit our Foundation page and put in a grant application.