Bob Ballantyne has been an employee of QBE Business Insurance for many years, and in 2014 he received the devastating news that he had head and neck cancer. After 12 months of gruelling treatment, Bob was told the cancer was gone, and he was able to return to work.
However, two years later, Bob received the heart-breaking news that the cancer was back, and this time, it was terminal. Bob's hospital referred him to Saint Francis Hospice.
"Initially I didn't want to go. I expected this horrible, dreary place where you go to die, but that couldn't be further from the truth. Coming to Saint Francis Hospice is the best thing I've ever done. It's changed my life."
QBE employees and the Foundation have donated £43,878 to the hospice over the years and also volunteered, giving back to Saint Francis for the invaluable care and support they have provided to Bob.
The hospice typically receives in excess of 1,500 new referrals a year, so our support through fundraising and grants means they can continue to give Bob, and others like him, the specialist end of life care that they deserve.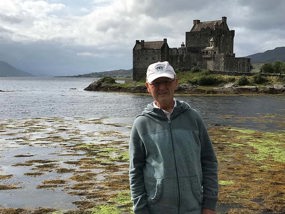 In 2018 we provided 80 grants to charities. Your charity could benefit financially from our support too. So please visit our Foundation page and put in a grant application.