Cotswold RDA is a charity based in Cheltenham, whose mission is to provide therapy, enjoyment and a sense of achievement for adults and children with a wide range of physical or mental disabilities. They aim to do this through a range of equine-based therapies. They provide support to people of all ages, the youngest rider being just 3 years old and the oldest 78! In addition, they also hold tea with pony events for local dementia patients.
The Foundation donated the charity a grant of £5,000, which covers the costs of caring for two ponies for a whole year.
The charity is on target to deliver an incredible 10,000 sessions this year, making a huge difference to the lives of their service users like 5-year-old Lilac.
"In April 2018 Lilac had major spinal surgery to permanently reduce the spasticity caused by her Cerebral Palsy, with the hope that with time and a lot of hard work her mobility would improve. From the date of her operation, Lilac's life has borne very little resemblance to that of most little girls. The intensive rehabilitation programme that she must follow to reach her full potential has meant that each week she has attended so very many therapeutic appointments.
"After Lilac's first lesson at Cotswold RDA, I got in the car and cried. Tears of contentment. I felt an overwhelming sense of peace that I honestly cannot remember feeling since before Lilac was born. We had found a place where Lilac could go, and just be the little girl that her condition sometimes prevents her from being...Cotswold RDA could support our rehabilitation goals, but in her eyes, it was just the most wonderful, magical fun..." Lilac's mother
"RDA is such a force for good in all ways and impacts out into the wider community. At the very heart of what we do are our very special ponies." Claire Jenkins, General Manager at Cotswold RDA.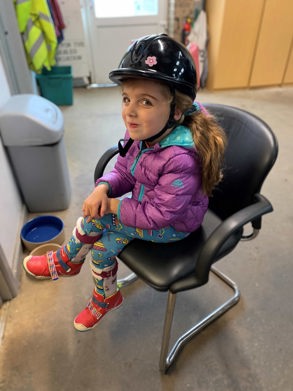 In 2018, we provided 80 grants to charities. Your charity could benefit financially from our support too. So please visit our Foundation page and put in a grant application.